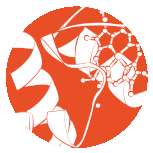 04 Jan 2016

Job posting: Freelance intermediate publications designer (EXTENDED)

Talk Science to Me Inc. is seeking a freelance intermediate publications designer to join our team.

This is a part-time contract position. Responsibilities include publication design, consultations with clients on design issues, graphic design and print consulting, often under the supervision of a senior designer. Materials include books, technical and policy reports, marketing materials and museum exhibits. The workload over the past year has ranged from 0 to 100 hours per month, averaging about 20–30 hours.

This is an intermediate-level position. You should have a well-rounded portfolio demonstrating a keen artistic eye and experience with a range of publication formats and design styles.

We are looking for, at minimum, the following skills and experience:
A degree or diploma in graphic design or related field.
Between 3 and 9 years' experience in graphic design for print.
Proficiency in Adobe InDesign, Photoshop, Illustrator and Acrobat.
Proficiency in Microsoft Office.
Knowledge of production for print and online materials.
Excellent understanding of font families, appropriate use of line-height, kerning and tracking.
Excellent knowledge of file preparation for output by a service provider.
Excellent knowledge of composition, colour and imagery.
Ability to do touch-up and colour manipulation for photos used in print and online materials.
Ability to follow client-specific directions and requirements.
Ability to adapt to different design styles according on client preferences and/or target audience.
The following skills and experience are major assets:
Experience working within a multi-step publication process involving writers, editors, designers, proofreaders and printers.
Experience with book design for general trade fiction or non-fiction publications, including cover design.
Experience with e-book design and platform-specific specifications.
Your background should also demonstrate a longstanding interest in science. We prefer at least some university-level coursework in a scientific field, but you can also demonstrate your passion for science through your portfolio, a history of science-related volunteer work or hobbies.
If selected for the position, you will become a Talk Science to Me core associate and listed on the website. Benefits of being a core associate include:
Business cards, an email address and a website profile that associates you with a well-respected, rapidly growing brand in science communication.
A professional development benefit and client referral bonuses.
The opportunity to showcase your work and contribute to your industry through (paid) posts on the Talk Science to Me blog.
Active marketing of your skills to a high calibre of client.
The opportunity to work with highly skilled team members who are as passionate about quality, service and professional excellence as you are.
Coverage by $1 million in errors and omissions and general commercial liability insurance for all projects performed for Talk Science to Me.
Guaranteed timely payment for your work—regardless of when (or whether) a client pays.
Access to review of and feedback on your work, training, mentorship, and professional development.
In turn, we request that you:
Own your own computer equipment, including Adobe CS5, CS6 or Creative Cloud, and all other necessary equipment and supplies.
Carry your own WorkSafe BC or similar workers' compensation coverage.
Adhere to the Talk Science to Me team policies.
Demonstrate interest in and enthusiasm for the work of our clients.
Be knowledgeable about and adhere to the highest standards of your industry.
Participate in ongoing professional development within your field.
Promote the professional development of all Talk Science to Me team members by providing open, honest and constructive feedback, where appropriate.
Provide feedback and input, as appropriate, on the direction of the company and ideas for expansion and improvement.
Promote the Talk Science brand when you attend functions under Talk Science to Me sponsorship.
If you are short-listed for the position, you will need to provide three references, at least one of whom should be an experienced designer.
We prefer applicants who live in southwestern British Columbia, but will consider qualified applicants from throughout Canada.
Your application materials should include a one-page cover letter, your resume and at least three recent portfolio samples, with all documents packaged together as one single PDF file. Send your application to [email protected] with "Publications designer" in the subject header.
Applications close at 9 a.m. Pacific time on Monday, February 29, 2016. No phone calls, please.