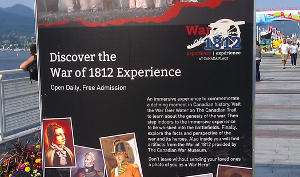 05 Mar 2019

Canada Place

Vancouver's Canada Place is a hub for Canadian heritage, providing educational and inspirational exhibits of Canadian experiences. Canada Place commissioned Talk Science to Me to fact-check, copy-edit and proofread two new exhibits. The first, on Canadian culture, explored Canada's arts, literature, music, cultural mosaic and sports. The second, the War of 1812 Experience, was built for the bicentennial of a pivotal event in Canada's history and introduces visitors to the people, places and key events of the war.

Both exhibits include interpretive display panels to engage the public and visually interpret historical information. The War of 1812 Experience includes computer interactives. We take pride in applying our skills and expertise in giving shape and form to knowledge that educates visitors to Canada Place and other institutions of heritage.

Knowing where we've come from helps us know where we're going-and Talk Science to Me makes sure the maps and signs along the way are written clearly, spell-checked and factual.