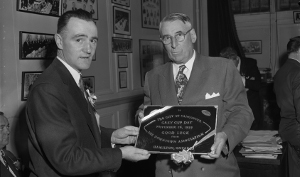 09 Mar 2019

Canadian Lacrosse Hall of Fame

In 2014, as part of the New Westminster Museum and Archives redevelopment project, Talk Science to Me oversaw revisions to the content of the Canadian Lacrosse Hall of Fame's exhibits. The Hall of Fame not only celebrates players who've made exceptional contributions to Canadian lacrosse, but also documents the history of the sport and its indelible ties to Canadian national identity.

The Hall of Fame had a draft content matrix-essentially a blueprint for organizing the content featured in the exhibits-that it felt didn't accomplish its aims. Talk Science to Me was brought in to dramatically revise the content matrix and present a new concept that would honour the sport's legacy and effectively engage visitors.

After overhauling the content matrix, we set out to realize the Hall of Fame's new vision by creating interpretive content based on the plan. This involved tight collaboration with curators of the Hall of Fame to ensure that the historical photos incorporated into the exhibits aligned with text that was accurate, legible and, most importantly, did the historical content justice.

At Talk Science to Me, we reject the false dichotomy of jocks and nerds. The most successful athletes are the ones who understand the scientific principles behind their performance, whether it's the fluid mechanics of a fastball or how the engineering of golf clubs makes each one suitable for a specific scenario.