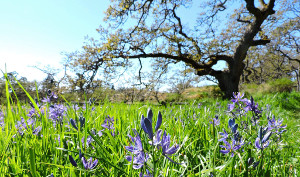 09 Mar 2019

Garry Oak Learning Meadow

Parks Canada offers guided tours of the Garry Oak Learning Meadow, in which visitors can learn about growing rare wildflowers. Along the way, they'll see a series of interpretive signs created by Talk Science to Me. We researched, wrote and designed the materials to offer visitors a historical and ecological perspective of the meadow's resilience in the face of an ever-changing world.

The Garry Oak Learning Meadow is an exceptional remnant of Canada's natural history. The lush vista of camas lilies, buttercups and sea blush are the result of a pre-colonial agricultural legacy. The Lekwungen originally cultivated the land to grow camas lilies, which have edible bulbs that taste like sweet potatoes when roasted. This delicate ecosystem, a rarity in Canada and a holdout against increased urbanization and other environmental changes, is the result of careful conservation. The bees do their part, too.

Science communication isn't all facts and figures. We too sometimes get out and smell the flowers; and then we write facts and figures about them.