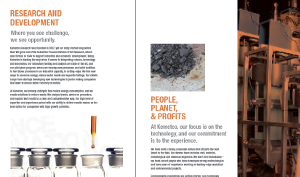 09 Mar 2019

Kemetco Research

Kemetco Research is a private laboratory that provides specialized chemical processes and consulting for companies in the mining and other natural resources industries. They hired us to create a layout for a brochure for distribution to potential clients, and brought a detailed vision of how they wanted it to look.

We concentrated on rendering Kemetco's vision as faithfully as possible. The resulting content and visual layout are on par with Kemetco's technical excellence.

Sometimes you need an expert. And sometimes you need expert advice. We're happy to provide either.

This project was completed on subcontract to Kachan & Co.