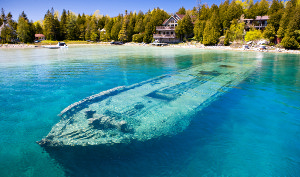 09 Mar 2019

Parks Canada

Parks Canada is the national parks service of Canada. As overseers of Canada's sites of conservation and natural heritage, the organization is an essential resource on environmental sciences. Talk Science to Me has worked with Parks Canada on two projects, providing writing, editing and design.

Minister's Round Table

Every two years, Parks Canada conducts a Minister's Round Table, wherein stakeholders representing a diverse spectrum of interests are able to address the Minister of the Environment on issues the parks service is responsible for.

For the 2017 round table, Talk Science to Me managed the content presentation of the published report, in print and online. This involved drafting a detailed report of the proceedings as they were presented at the public engagement and ensuring that the finished document would be accessible and transparent to the general public.

Fathom Five National Marine Park

Fathom Five National Marine Park is a National Marine Conservation area in Ontario's Lake Huron, famous for its prominent shipwrecks. It attracts divers and tourists, who gaze through glass-bottomed boats at the preserved aftermath of seafaring catastrophe.

Talk Science to Me developed an interpretive map of the shipwrecks contained within the park with informative blurbs for each individual wreck to highlight the breadth of history lurking within the park's waters.

The park also uses a video tour of the shipwrecks. Talk Science to Me was given a video of the shipwreck tour and tasked with writing narration for each ship in time with the video. We also provided a French translation of the script in accordance with the park service's bilingual mandate as a Canadian government agency.

We believe science is for everyone, and are eager for opportunities to collaborate with institutions that present and preserve scientific knowledge for the general population.