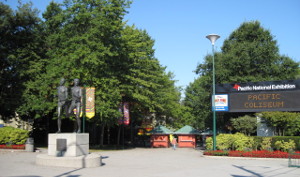 09 Mar 2019

PUBLIC

We seek to transform everyday relationships with science. It's not (always) about facts and figures deciphered by educated specialists. Knowing the species of plant life at your local park is science. Anticipating bad traffic is science. Understanding how a room's layout and access to natural light makes it conducive for certain activities is also science.

With PUBLIC, an interdisciplinary design firm that fuses architecture with communication design, we've been able to help managers of public resources reimagine how visitors engage with their local history.

Carrie M. McClain Museum (Nome, Alaska)

PUBLIC brought Talk Science to Me on board to design a new content plan for the Carrie M. McClain Museum as part the museum's relocation. The museum preserves the cultural and historical heritage of Nome and the Bering Strait.

Nestled in the Norton Sound of the Bering Sea, with a snowfall three times the national average, Nome's history and culture are influenced by unique environmental factors that can't really be gleaned from a few phone interviews. To fathom a city's character, you really need to be there. To that end, we spent a month in Nome, interviewing the museum staff and consulting with PUBLIC designers on the new exhibits in progress. Our exhaustive interviews ensured the renovation's conceptual intent remained intact when a new curator oversaw the move's completion.

Hastings Park (Vancouver, British Columbia)

PUBLIC's redevelopment of Hastings Park involved a series of interpretive signs highlighting the park's historical significance. Talk Science to Me was hired to redevelop the content for these signs. Talk Science to Me developed both written and photographic content, and used library archives to verify historical accuracy.

Hazelgrove Park (Surrey, British Columbia)

Hazelgrove Park boasts the distinction of being the first park in Surrey to feature a purpose-built parkour course. Talk Science to Me developed content for an interpretive sign featured in the park. Parkour runners might not follow a predetermined path, but they can appreciate good signage along the way!