If you have a feed reader harvesting RSS feeds for your consumption, or are active in social media, you might have seen an increase in women-in-science-based activity around the middle of October each year. You may even have seen the name Ada Lovelace mentioned.
Since its launch in 2009, the science communication world spends a day talking about Ada Lovelace and celebrating the achievements of women in STEM careers (that's Science, Technology, Engineering and Medicine). From online blog posts to IRL events, Ada Lovelace Day promotes awareness of and engagement with all the different areas in STEM that have women behind them.
Why STEM?
Along with a whole host of other gender inequalities, women are currently underrepresented in the STEM fields. Run a Google search on "underrepresentation of women in STEM," and you'll see over 100,000 results flash up, including this report from the American Association of University Women. Apart from not progressing through STEM careers, girls and young women do not choose to enter these male-dominated professions—could be something to do with "I'm too pretty to do math" T shirts perhaps, or maybe other kinds of "run like a girl" stereotyping?
Whatever!
So Ada Lovelace Day was launched, showing that coding/experimenting/dissecting/#doinganydamnscienceactivityindeed like a girl was actually quite cool, quite OK, meaningful and something to aim for.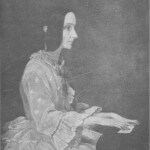 About Ada
Why Ada Lovelace? Ada was born Augusta Ada Byron—yes, that Byron—way back pre-internet, in 1852. As an antidote to growing up mad, bad and dangerous to know (like her estranged father), Ada's mother, Anne Isabella Byron, stuffed Ada's early education with mathematics and logic. As a result, Ada became an equal in conversation with the great thinkers of her time, including a certain Charles Babbage—yes, that Babbage.
Ada described herself as an analyst and metaphysician. In her short life (she died from uterine cancer at the age of 36) she translated and analyzed engineering articles, and published a discussion of Babbage's Difference Engine, in which she wrote what is considered the first computer program.
And even though she did it all like a girl, her notes carried weight then, and they still do now.
Ada Lovelace Day 2014
Last year, instead of writing about Ada Lovelace Day, this happened—sad, but it reinforces why shouting out about women's contributions to STEM is important. However, out of a very depressing situation, a lot of inspiration and awareness grew, and this continues in the science world a year later.
So this year, we've rounded up some inspirations of our own for Ada Lovelace Day.
Talk Science to Me associate editor, Roma Ilnyckyj, nominated Dr. Jennifer Gardy as an inspiring woman in STEM.
"She excels in all types of science communication and is just as active on Twitter as she is in science journals. Oh, and she just wrote a book for kids," explains Roma.
Dr. Gardy, who is a senior scientist in Genomics and Molecular Epidemiology and Assistant Professor at UBC, manages to be a passionate science communicator on top of all her research activity. She has appeared on TV with CBC's The Nature of Things and Discovery Channel's Daily Planet, bringing science to a lay audience in an engaging and understandable manner.
UPDATE: Dr. Gardy is taking part in one of our local-to-TSTM Ada Lovelace Day events: she's talking about Leaky Pipelines and Push-up Bras: Women in STEM and Science Media at SFU Burnaby.
Talk Science to Me mastermind, Eve Rickert, nominates another UBC professor: Dr. Sarah Otto, who combines mathematics with evolutionary biology to look at population change. She's also Director for the Centre for Biodiversity Research, which if you've been paying attention to our blog through the years, you will know is associated with that awesome venue for engaging public awareness, the Beaty Biodiversity Museum.
Dr. Otto is also a 2011 MacArthur Fellow, received a Guggenheim Fellowship in the same year, and was elected to the US National Academy of Science in 2013.
Marilou Rickert, our policy and issue analyst, wholeheartedly nominates MGM Golden Age starlet, Hedy Lamarr. In addition to somewhat notorious film career, Lamarr was also an inventor. She jointly held patents in spread spectrum communications and frequency hopping, which today forms the basis of wireless communications such as Bluetooth and CDMA (code division multiple access). Once billed The Most Beautiful Woman in the World, Lamarr is a great dismissal of the brains vs. beauty stereotyping that dogs women entering STEM careers: it is possible to be both, as well as one, the other or neither in fact, just like a girl, boy or man.
I have met some incredible women during my career in STEM. My PhD supervisor, Dr. Cecilia Camacho-Hübner, was instrumental in building my love of science communication through her patient editing of my initial papers and rigorous training for delivering presentations. "Never apologize for your science," she would say, and I never have.
However, my nomination is the woman who started it all off for me: Susanne Hart. I was an animal lover and veterinary surgeon wannabe, and my library groaned under the weight of books by James Herriot, David Taylor and Gerald Durrell. Then along came Vet in the Wild by Susanna Hart, a veterinary surgeon working among bush animals in Africa. Strange as it may seem today, she was the first notable female vet I had encountered.
Reading about her life working as a large animal vet in Africa was inspiring and exciting. Although I very quickly worked out that roughing it in the bush wasn't for me, Susanna was a very positive role model, showing what a female vet could do in a world apparently populated with only men rolling up their sleeves to tackle animal health.