At Talk Science to Me, we often receive requests from people who are right at the beginning of a career shift from science to science writing. Although we don't have entry-level positions available, we do have experience in making The Switch. In this two-part series, Amanda, our science writer, gives some insight into why and how she made the move out from behind the bench.
Part 1: Making the switch from science doing to science writing
"For me, it wasn't a case of the pipette no longer holding the same awe as it once did, or that playing around (in a radiologically safe and prescribed manner) with isotopes didn't bring the same buzz. No—for me, I switched from science doing to science writing because of family."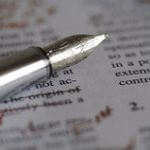 Love, passports, parenting
In the summer of 2001, I moved from London, UK, to Vancouver, BC, when my husband got an overseas posting. Initially, the contract was just for two years and was an amazing opportunity for us to experience living on the West Coast of Canada. But the longer we stayed, the more enchanted we became and, long story short, we stayed.
While the whole experience is still extremely exciting, career-wise it has been difficult. Even as a qualified veterinary surgeon, registering to work in Canada with my UK degree means the equivalent of retaking final exams—difficult for someone who has been at the bench and away from clinical practice for a number of years. Hands-on science was not an option either; for me, it has to be a full immersion experience, and, as with a lot of women, this was not a career I personally felt was compatible with parenting. Also, with no veterinary school around, it would be difficult to forge the kind of research path I wanted to take.
Drawn to write
While considering options, I looked back on the enjoyable parts of previous jobs and found that communication and engagement, sharing the science, topped the list. However, I quickly realized that simply "loving to write" would not carry me that far. I started to look at science writing jobs, creating a library of job titles, descriptions and so on that gave me an overview of the field.
From this initial research, I knew that I had to upgrade my skills. At first, I took occasional classes on writing and other skills—indexing, freelance article writing, editing, proofreading—as continuing education courses, but this never seemed enough. It wasn't until I landed as a part-time student in a full communications program, the Print Futures Professional Writing Diploma course at Douglas College (now the Post-Degree Diploma in Professional Communications), that I felt like I was making progress.
Building skills
In addition to the astounding range of highly practical and informative courses that cover all areas of writing and freelancing, Print Futures also included a practicum where students experienced working in the industry. I pitched myself into a science communications–based internship and spent a valuable summer interviewing researchers at a local university and translating their words into Web content. From this experience, I gained not only valuable clips for my portfolio and new skills, but a new-found confidence in myself as a writer. The editing experience was thorough, and under the (red) pen, tracked changes and patient guidance of a veteran science communicator, I slowly improved.
From this experience and through adventures in the new world of digital/social media, I also discovered that I wanted to concentrate on the world of online communications. I took a very quick post-graduate Certificate in Digital Communications from Simon Fraser University to give me additional skills and another internship opportunity. This time I worked under the guidance of an experienced public relations and marketing professional, covering events and writing up interviews for the university's business school website. While I still do not pretend to understand business or finance, the experience I got in finding the story behind the news and research has been extremely valuable—if you can write about responsible investing, in my opinion you can tackle just about anything!
Building a portfolio
As any writer will say, building a comprehensive library of clips that showcase your skills and interests is important. While I tackled the homework assignments, I also put the theory into practice outside the classroom by volunteering for local non-profits. Okay—I wasn't writing about science, but the experience gained in writing Web content, customizing content management systems, interviewing, blogging and marketing through social media was invaluable.
I also built a solid collection of clips, so that once I started sending off inquiries I had more than a few concrete examples of my work. Collecting them together, using digital aggregators like Tumblr, Flipboard and a simple WordPress site, makes it easy for me to forward examples to new contacts. Using a site like about.me helps tie everything together.
Onward
I don't just write science; my current freelancing covers arts, website management and business reviews for a hyperlocal website—all using skills and contacts I gained while volunteering. I don't discount a new client just because there is no science content!
I also don't just write. I can handle the basics for several content management systems and set up a template-based website, design the page structure, and populate it with content. As an avid blogger and social media user, I can handle the digital promotion and engagement side of marketing using these tools. I also know how to leverage low- to no-cost time-saving options through my non-profits experience.
Would I like to write more science? Yes. So that's why my next steps include networking and keeping an eye on emerging trends in communications. Would I like to be better at science writing? Again, yes; although I probably won't embark on another full diploma or certificate program, there are continuing education workshops and online courses on editing, magazine writing and pitching, SEO, visual design, science communication, and so on that I have my eye on. Never stop learning, and never take your eye off science.
In summary
Changing from science doing to science writing has allowed me to live a research life vicariously through others; I no longer face the perils of acids, radioactive isotopes, or being bitten, bugged or vomited on, but I still get to engage with science. Although the route hasn't been straightforward or swift, it's been self-directed and mostly an enjoyable one, at a pace that has fit in and around the style of parenting that is important to me.
Having a science background with both experience behind the bench and in a clinical setting has certainly helped to open doors, as has an open attitude and willingness to try out new skills in areas other than science. I highly recommend taking a general writing program, especially one that offers a practical component, to gain skills and confidence, but I also advise supplementing the classroom experience out in the real world by writing for non-profits.
Go for it! Get out there and share your passion for science!